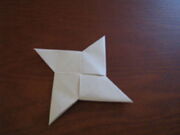 Hi, I will give you basic instructions on how to make a ninja star.
Ninja stars are a modular origami.
Step 1: start with a basic paper square
Step 2: rip the paper in two (it is easier to book fold it first then cut with scissors)
Step 3: fold the two ripped papers in two lengthwise
Step 4: fold the left side up to make a point that looks like an upside-down angle sign
Step 5: repeat on other side but fold it down
Step 6: repeat on other paper but make the left side go down and the right side go up
Step 7:
Ad blocker interference detected!
Wikia is a free-to-use site that makes money from advertising. We have a modified experience for viewers using ad blockers

Wikia is not accessible if you've made further modifications. Remove the custom ad blocker rule(s) and the page will load as expected.